Softwave Therapy Reviews
At Camarata Chiropractic, our Softwave Therapy has been instrumental in helping numerous patients reclaim their lives from pain and discomfort. Their stories are a testament to the effectiveness of this innovative, non-invasive approach.
One such success story involves Ken here in Rochester, NY who came to us seven months post ACL surgery. Ken, an ardent soccer player, was having trouble getting back to his game. He was facing lingering pain and stiffness, hampering his performance and enthusiasm for the sport he loved. After hearing about Softwave Therapy, he decided to give it a try. The result was beyond his expectations.
With a personalized Softwave Therapy regimen, Ken experienced a remarkable improvement in his condition. The therapy not only alleviated his pain but also enhanced his mobility, allowing him to return to soccer with renewed vigor.
Today, Ken is back on the field, enjoying every moment of his game, showing an agility and energy he thought he had lost forever. His successful recovery story embodies the transformative potential of Softwave Therapy, and how it can play a crucial role in post-operative recovery, helping individuals like Ken reclaim their active lifestyle.
Request a SoftWave TRT Appointment Today!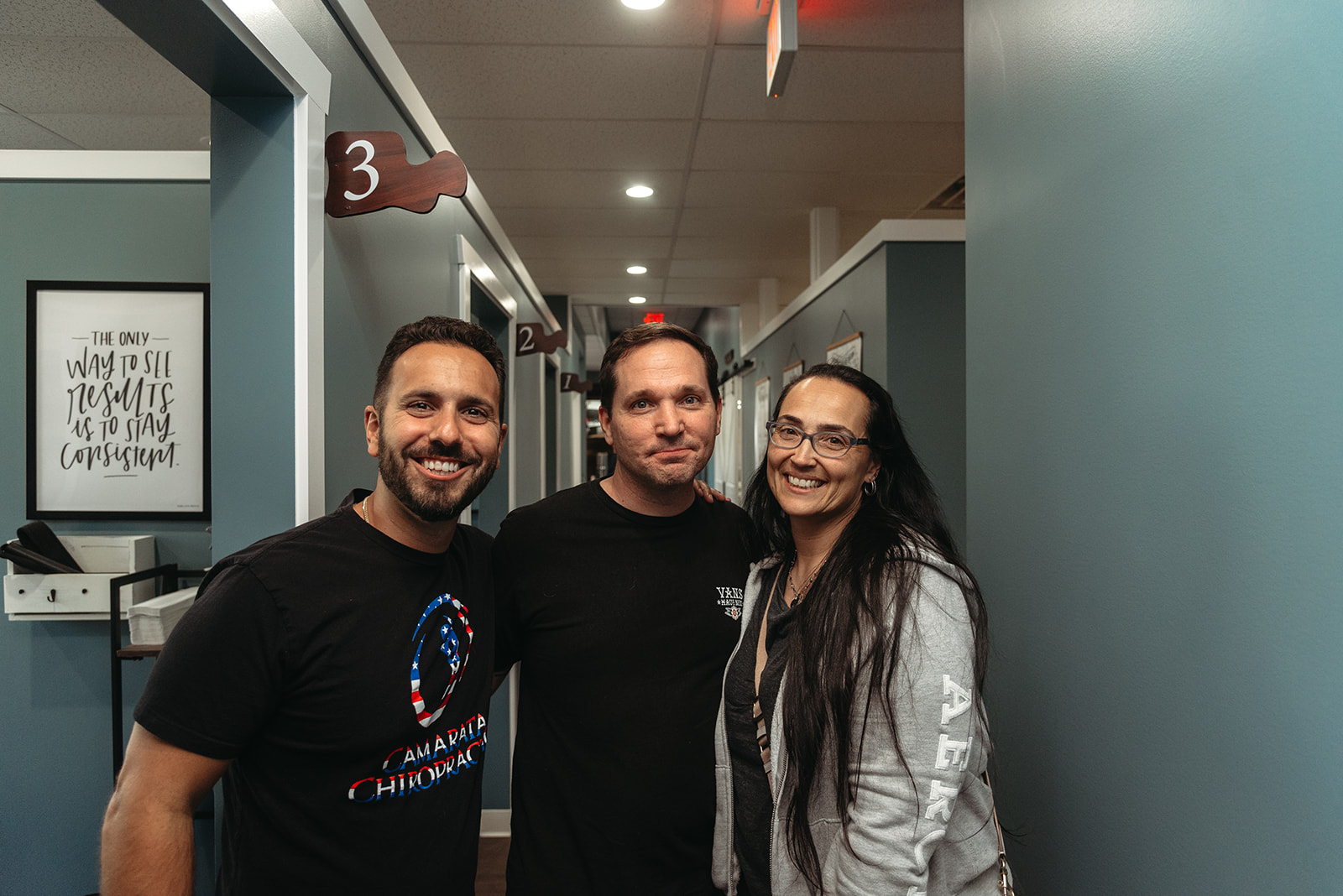 "We climbed up Mt. Etna today! It was the most incredible experience! And then we went into the lava cave. We have 1 man to thank, that is 100% responsible for making this happen. Camarata Chiropractic is the reason Chris was able to do this.
After 2 surgical consults and facing back surgery, we never thought we would be in Sicily, hiking up a volcano!! Dr. Sam truly cares about his patients nad healed my husband with softwave therapy treatments. You will not find a better Chiropractor than Dr. Sam at Camarata Chiropractic, so go see him, you will not regret it. Thank you so much, Dr. Sam, you truly changed Chris's life"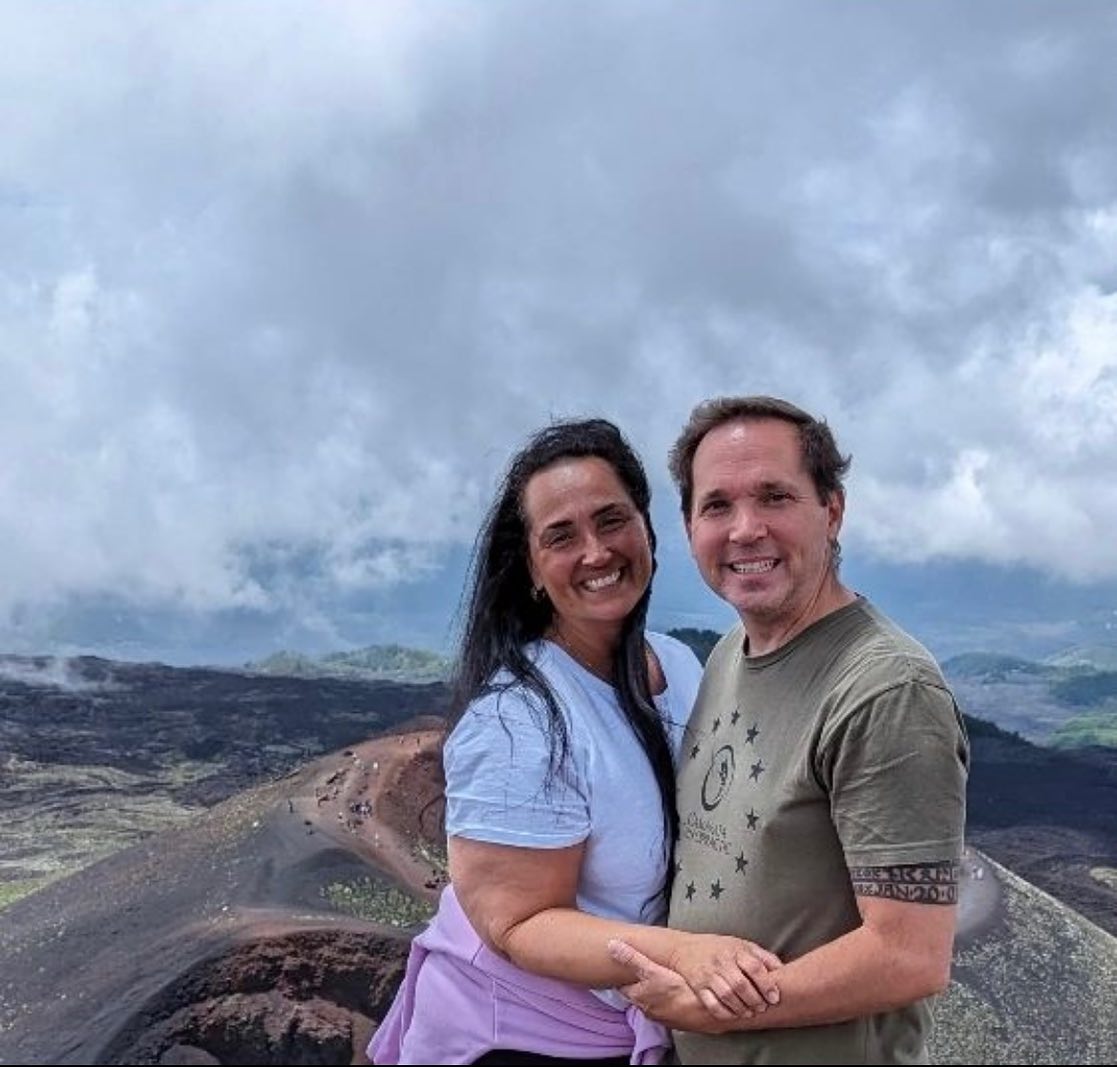 "Give it up for Scott! Show him some love! After 20+ years of knee pain from years of football and wrestling AND 10 surgeries later!!!!…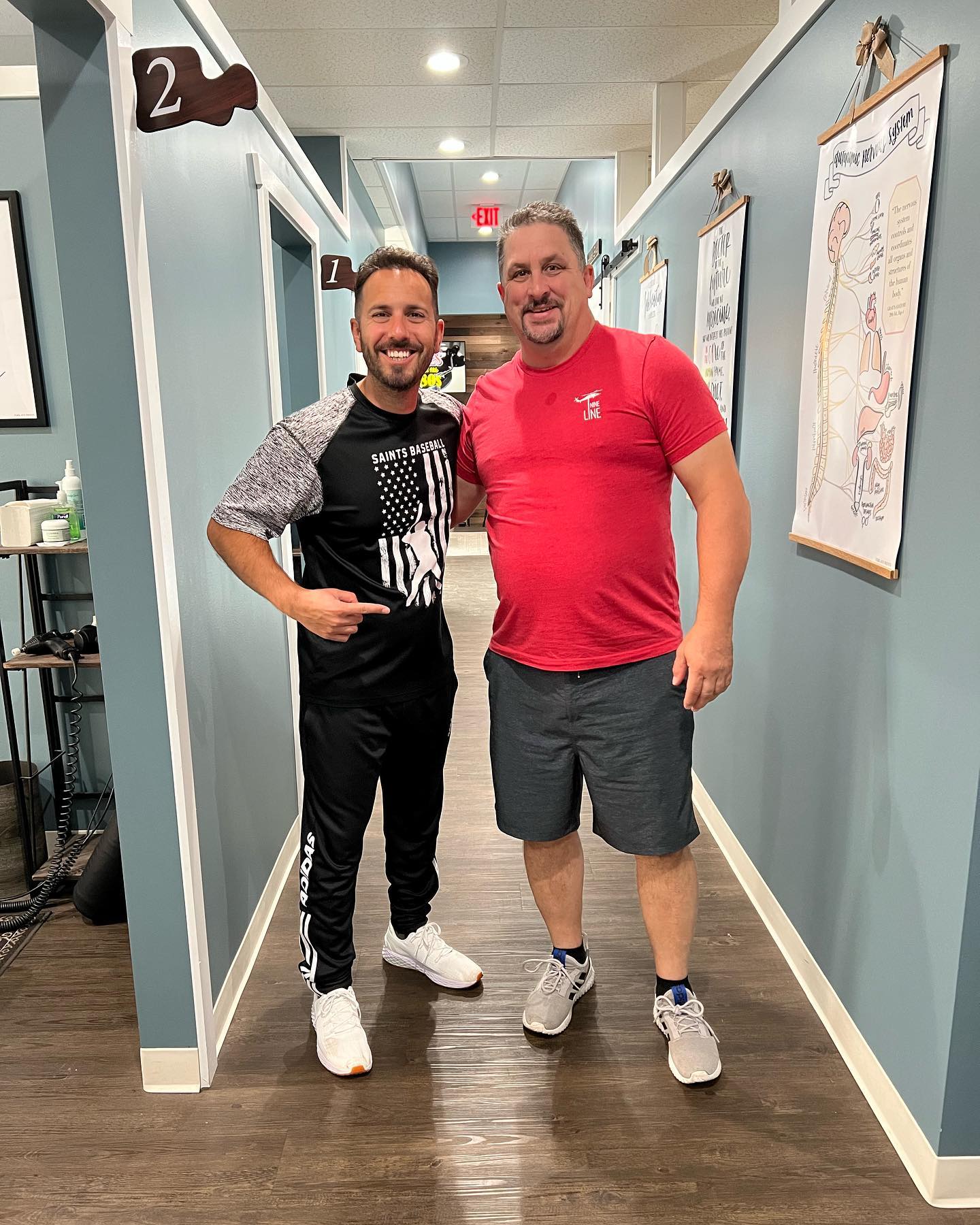 Scott found us and our SoftWave Tissue Regeneration Technologies via one of our new ads about SoftWave TRT that we are using to spread awareness of alternative pain relieving options that are non-drug, non-injection and non-surgical!
After JUST HIS 1st session, Scott noticed AMAZING CHANGE AND PAIN RELIEF that he hasn't felt in literally YEARS!!!...
Fast forward to TODAY- half way through his SoftWave treatments…we are SO PUMPED that Scott is experiencing PAIN RELIEF AND RESULTS week after week!
Scott decided to rock our Nine Line Apparel Camarata Chiropractic tee shirt to his appointment today so it was only right that we had to snap a quick picture together in celebration of his continued victories!
YOU THE MAN SCOTT!! Appreciate you brother. Thank YOU for trusting us and allowing us to help you regain your quality of life!!"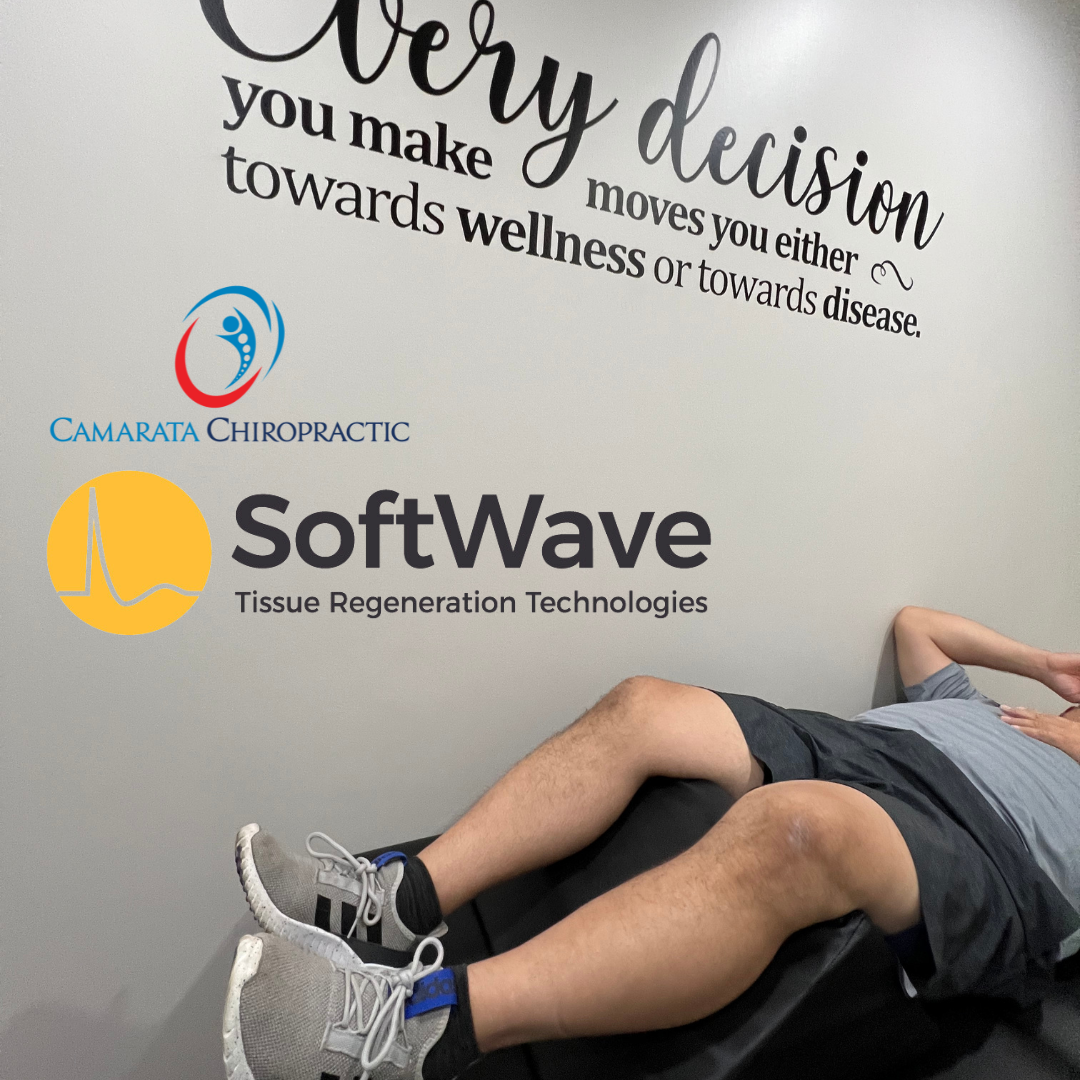 Caralyn's Success Story: SoftWave Therapy for Carpal Tunnel Syndrome and Nerve Damage
When it comes to managing carpal tunnel syndrome and nerve damage, finding a non-invasive and effective treatment option is crucial. Caralyn, a patient at Camarata Chiropractic & Wellness, discovered the transformative power of SoftWave Therapy in healing and reducing her carpal tunnel syndrome and nerve damage. After being diagnosed by her neurologist with moderate to severe carpal tunnel syndrome, Caralyn was faced with a difficult decision: undergo surgery or explore alternative treatment options.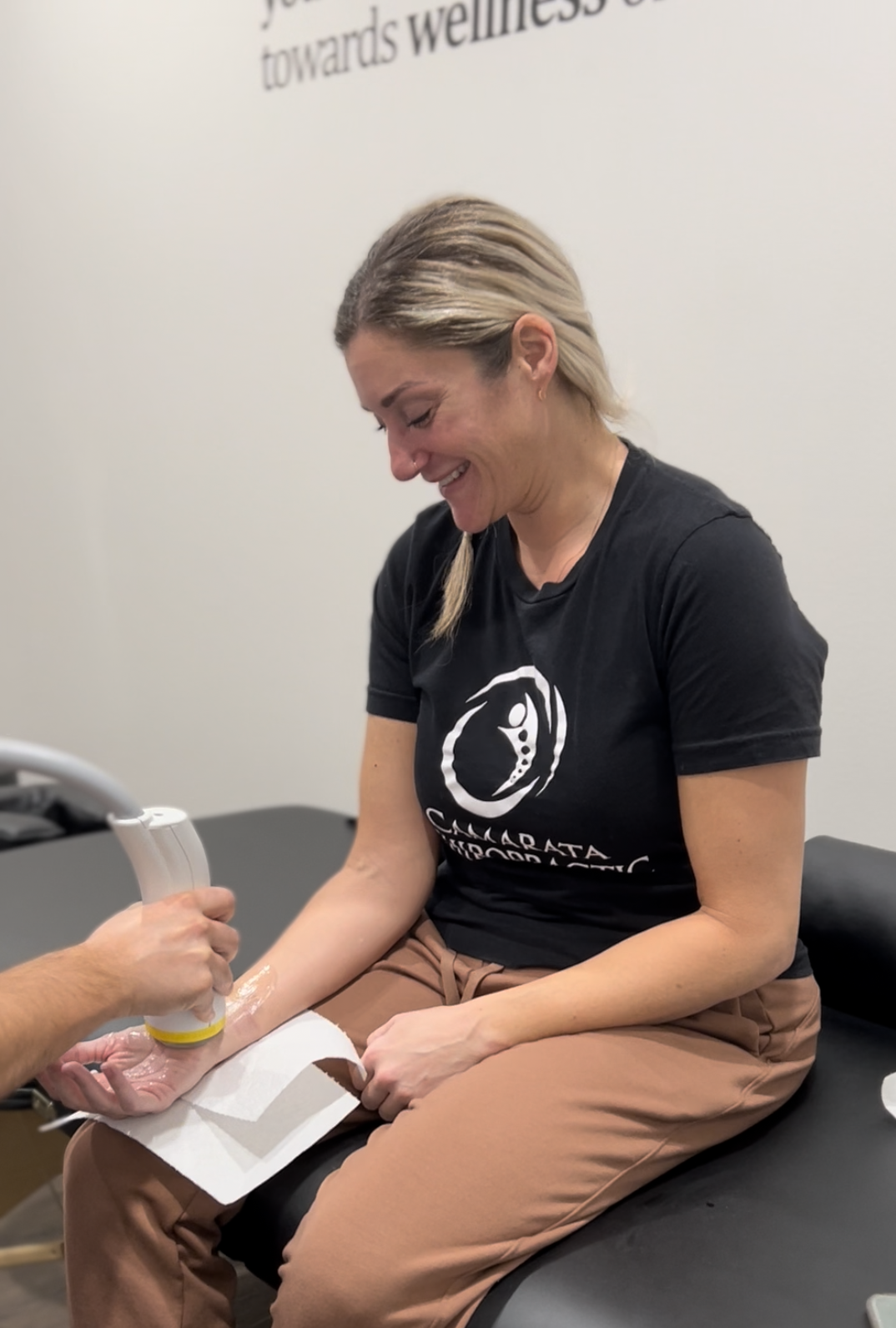 Request a SoftWave TRT Appointment Today!
Positive Changes and Healing with SoftWave Therapy:
Caralyn decided to give SoftWave Therapy a try, and she experienced remarkable results without any downtime or the need for invasive procedures. The high-energy shockwaves of SoftWave Therapy stimulate healing and regeneration in the affected areas, promoting tissue repair and reducing inflammation.
At Work: Caralyn noticed significant improvements in her work-related tasks. The numbness, tingling, and pain that once plagued her hands and wrists gradually diminished. As a result, she could perform her job more comfortably and efficiently, without the constant interruption of discomfort.
At Home: Carrying out everyday activities became easier for Caralyn. Simple tasks like cooking, cleaning, and typing were no longer accompanied by the nagging pain and stiffness she had grown accustomed to. SoftWave Therapy had brought relief and enhanced her quality of life, allowing her to enjoy her home life without limitations.
In the Gym: Caralyn's commitment to fitness was never compromised. SoftWave Therapy not only helped her overcome the challenges posed by carpal tunnel syndrome but also alleviated the nerve damage in her elbows. This allowed her to continue her weightlifting and exercise routine without pain or limitations. The positive impact on her physical well-being and overall fitness journey was undeniable.
The Success of SoftWave Therapy:
Caralyn's experience with SoftWave Therapy highlights its effectiveness as an alternative to surgery for carpal tunnel syndrome and nerve damage. By choosing SoftWave Therapy, she found a non-invasive solution that enabled her to heal and reduce her symptoms without the need for downtime or invasive procedures.
Caralyn's success story serves as an inspiration to others who are seeking non-invasive alternatives for carpal tunnel syndrome and nerve damage.
Request a SoftWave TRT Appointment Today!
Inspiring Success Story: Meet Tammie!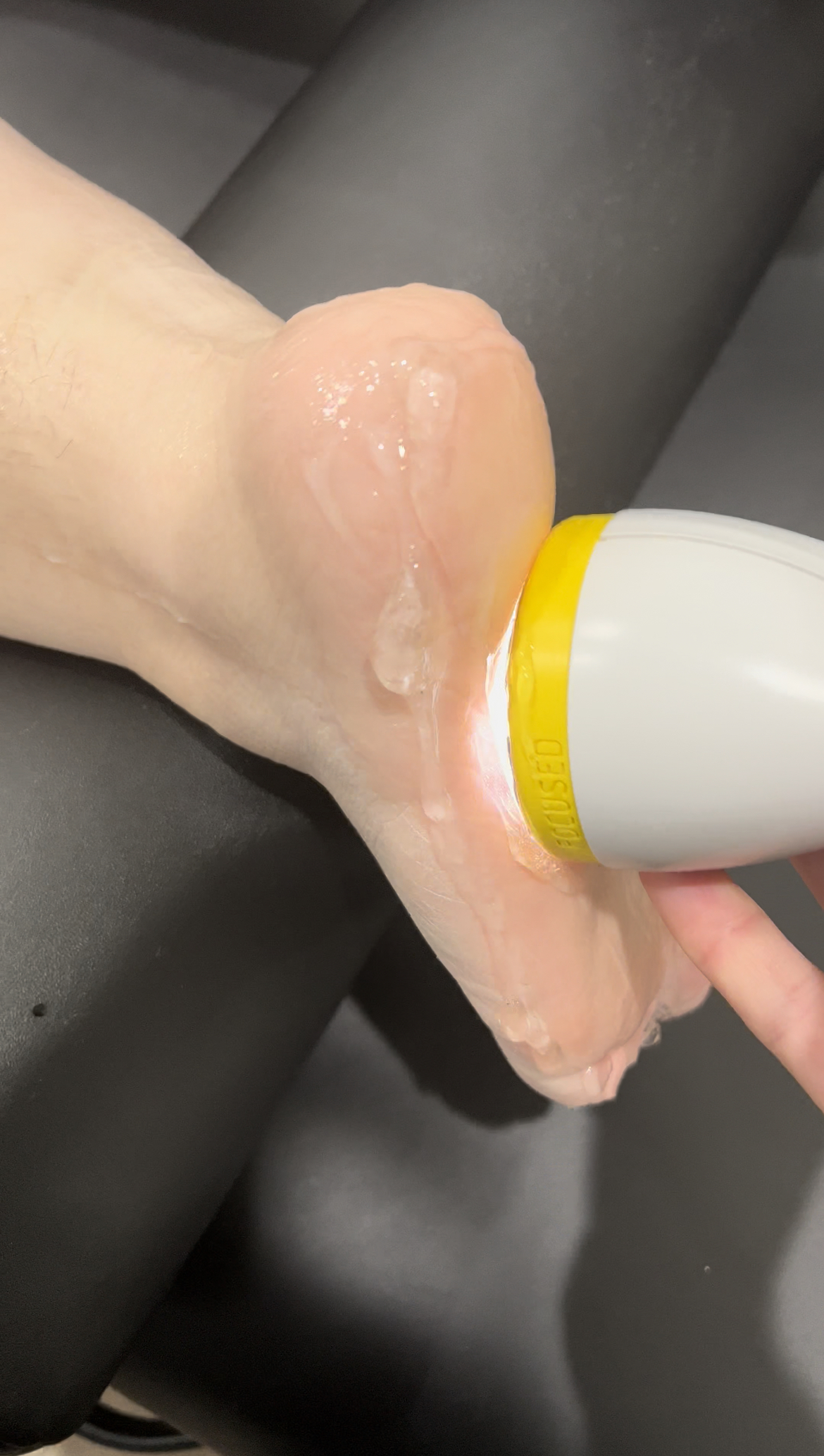 We are thrilled to share Tammie's incredible journey towards improved quality of life and freedom from heavy medication!
For the past 7 years, Tammie had been reliant on Gabapentin, taking a staggering 1800mg daily. But thanks to the combined efforts of our dedicated team and the power of chiropractic care and SoftWave Tissue Regeneration Therapy, Tammie has experienced a remarkable transformation!
By addressing Tammie's spine and nervous system through chiropractic care, we aimed to enhance her body's natural healing capabilities. Alongside that, we applied SoftWave Therapy to her foot, targeting the root cause of her discomfort and providing a holistic approach to her well-being.
Through this comprehensive treatment plan, Tammie has achieved extraordinary results. Not only has she experienced a significant improvement in her overall quality of life, but she has also been able to say goodbye to Gabapentin and its potential side effects.
We are overjoyed to witness Tammie's progress and see her regain control of her health. It's a testament to the power of chiropractic care and SoftWave Therapy in promoting the body's natural healing process.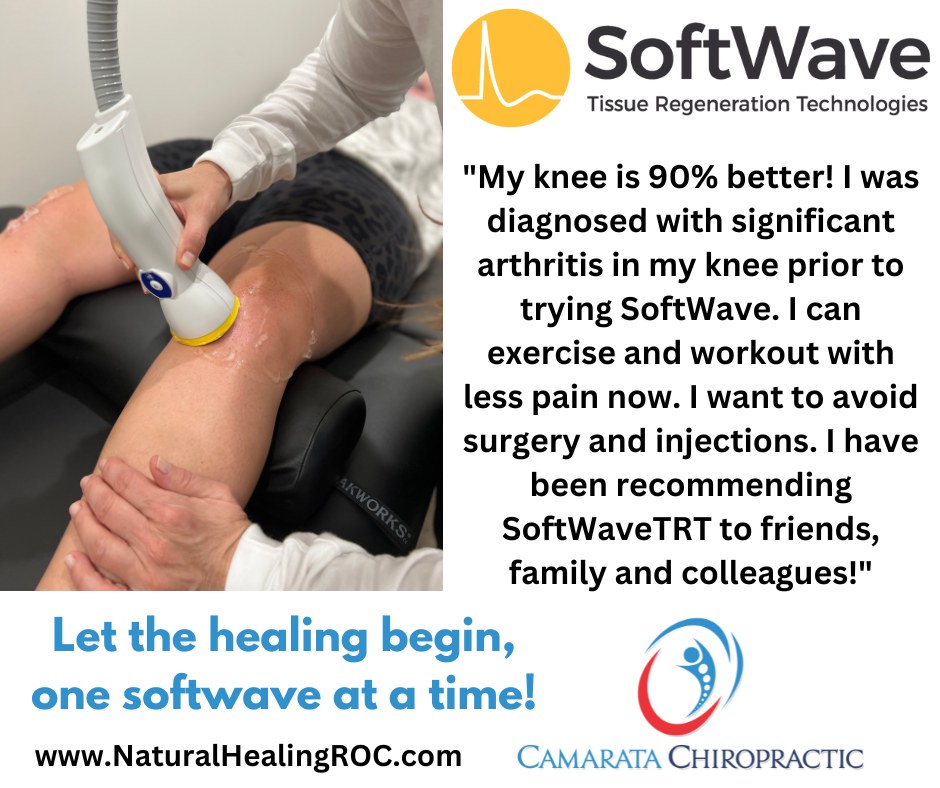 From Suffering to Renewed Hope:
Kelly's battle with moderate to severe knee osteoarthritis had been challenging, leaving her with significant and frequent pain and limited mobility. Frustrated by her previous attempts at finding relief, including corticosteroid injections that offered only temporary results, she was determined to explore alternative options. It was during this search that she discovered SoftWave Therapy at Camarata Chiropractic & Wellness.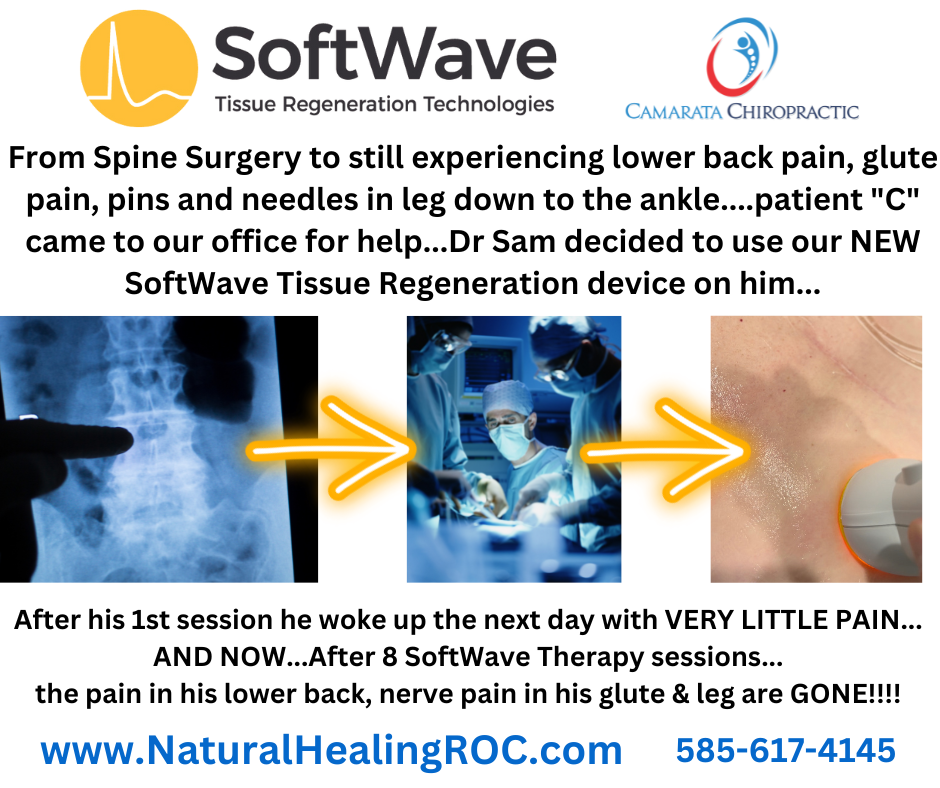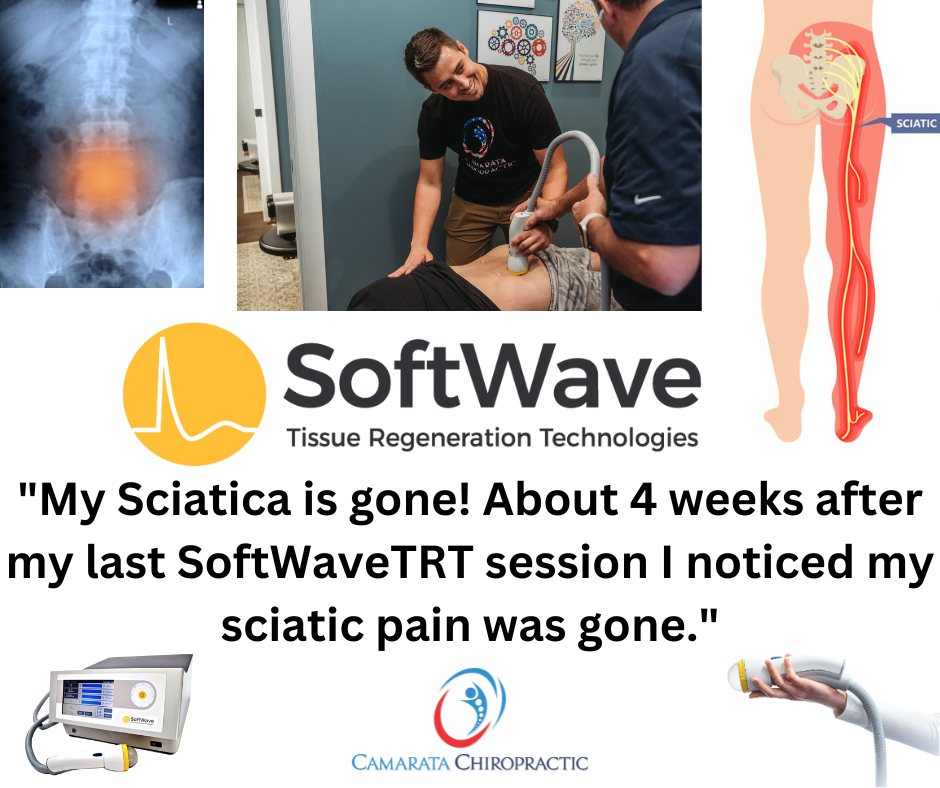 Pat's experience with SoftWave Therapy is a remarkable example of how this revolutionary technology can bring lasting relief to individuals suffering from conditions like sciatica. After months of struggling with unresolved sciatic pain, Pat decided to give SoftWave Therapy a try, leading to an incredible outcome.
The Frustration of Unresolved Sciatica:
Before discovering SoftWave Therapy, Pat had been dealing with sciatica for months. Despite receiving chiropractic adjustments that provided temporary relief, the root cause of his sciatic pain remained unresolved. Seeking a solution, Pat discussed his condition with Dr. Sam, who introduced him to the futuristic and revolutionary technology of SoftWave Therapy available at Camarata Chiropractic & Wellness.
Embrace Healing with SoftWave Therapy:
Are you suffering from sciatica and finding little success with traditional approaches like chiropractic care, physical therapy, massage, acupuncture, injections, or pain management? We invite you to experience the transformative power of SoftWave Therapy at Camarata Chiropractic & Wellness in Rochester, NY. Our state-of-the-art SoftWave Therapy technology targets the root cause of your sciatic pain, promoting deep healing and long-lasting relief. Don't let sciatica hold you back from living a pain-free life. Schedule your SoftWave Therapy session today and embark on your journey to healing and well-being.
"This has helped my Neuropathy! AMAZING..." -Cindy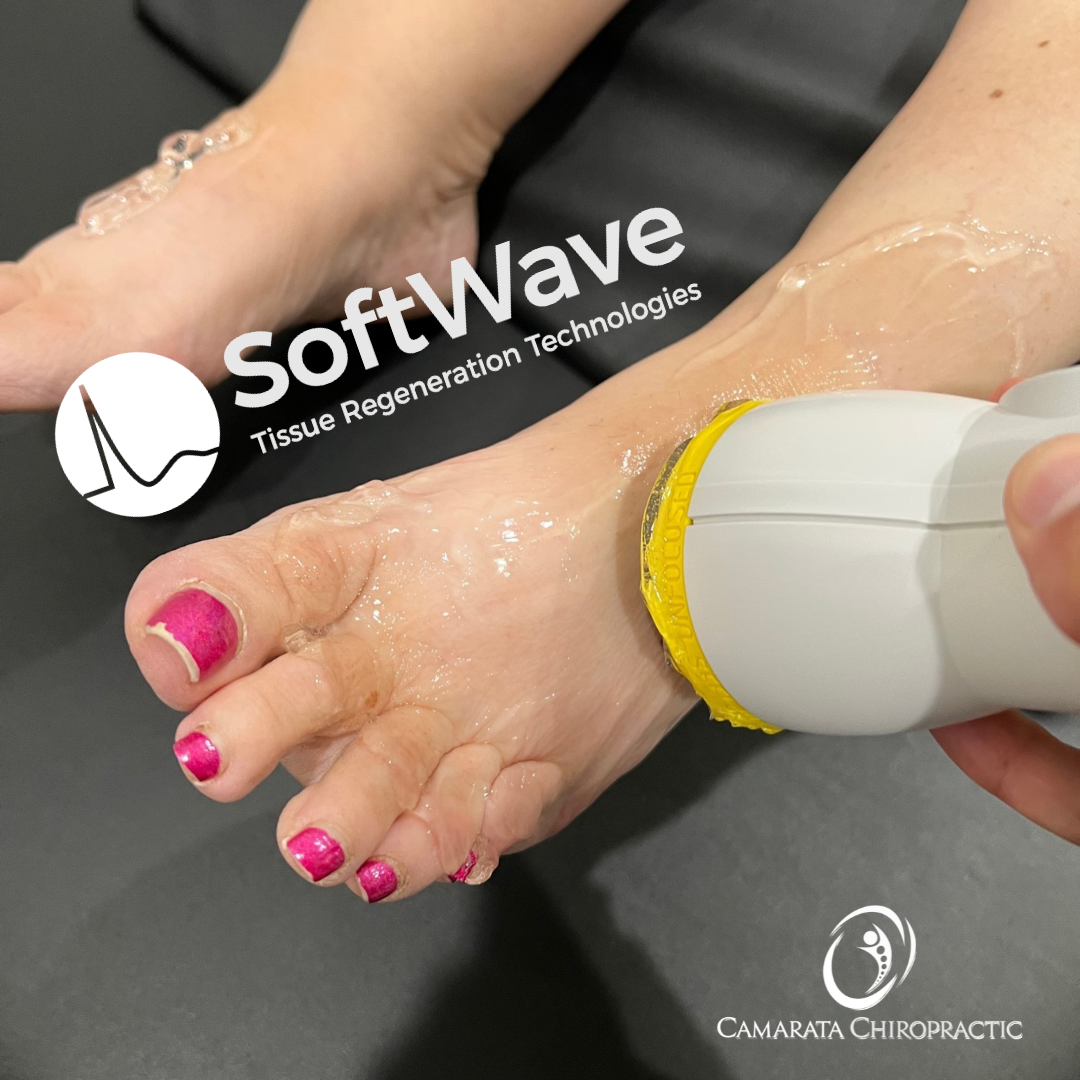 After 6-8 treatments, we should have the maximum stem cell production that will continue to migrate and repair the tissue over the next 8-12 weeks!